Big Mike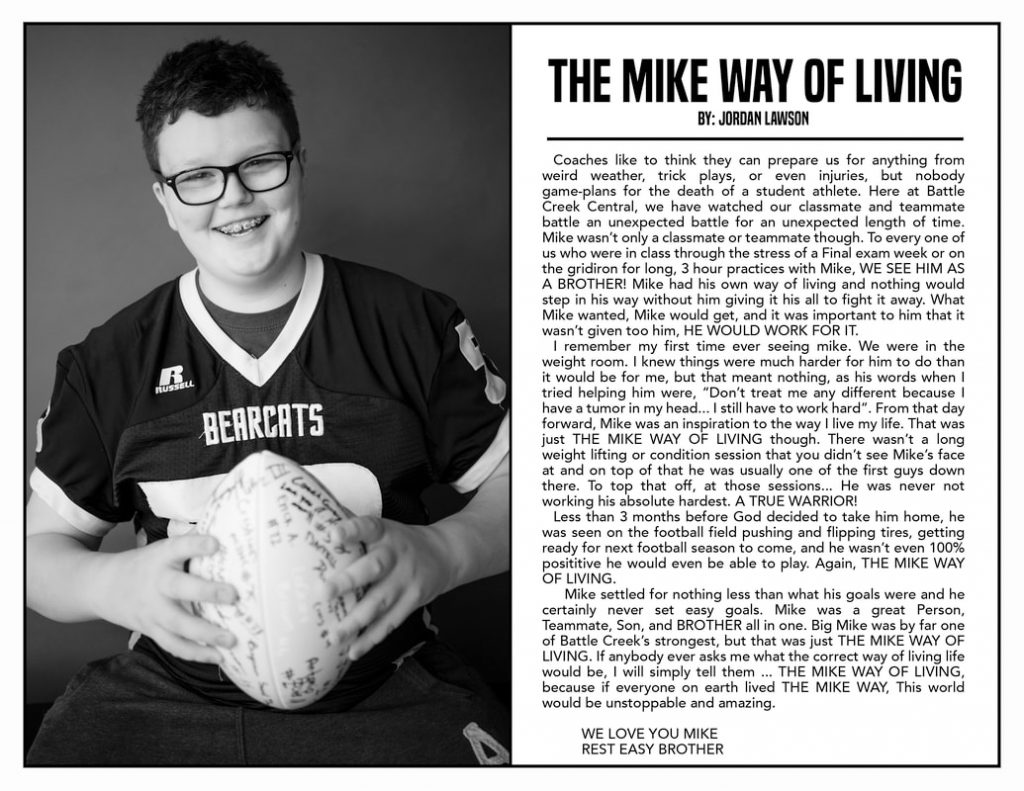 Michael's Story
I started the Michael Miller Memorial Foundation in 2018 to honor my son Michael, who passed away in July 2017 from DIPG at the age of 14. Michael fought bravely for 20 months after his diagnosis, and we needed to celebrate his life and keep his memory alive, while raising money to help fight childhood cancer – especially DIPG.
Michael always had a smile on his face and brought happiness and joy to so many friends and family members. He had so many interests and passions, and through those he touched so many people throughout the community. Michael's biggest passion was football. He started playing football at the age of 8 and played all the way up through his freshman year of high school, which was sadly his last year of high school. Michael started on the offensive line and helped lead the Battle Creek Central Bearcat JV football team in the Fall of 2016, even as cancer continued to take a toll on him. He went to school during the day and did radiation treatments at night so that he could remain eligible to play. For the last three years the Bearcat football team has hosted a "Gray/Pink" game to honor Michael. They wear gray and pink jerseys to bring awareness that Gray matters just as much as Pink (gray being the color for brain cancer). This year the football team at Battle Creek Central will be wearing gray jerseys all year in his honor, with his number sewn on the top of each jersey.
Bowling was another thing Michael loved to do. He started bowling in leagues at the age of 5, and it was an annual rite of passage to spend Saturday mornings at the bowling alley. It was a fateful Saturday morning when he couldn't hold his bowling ball that we decided to go to the E.R. That day changed our lives forever. He asked me one day to hold a fundraiser and get Battle Creek Central a bowling team so that he could bowl for the school he loved. I was unable to fulfill that wish before he passed, but we now hold an annual bowling tournament in his honor with proceeds going towards funding a bowling team at Battle Creek Central.
The other place you could always find Michael was at BC Comics, where he enjoyed playing Magic The Gathering and Yu-Gi-Oh card games. It was his "home away from home," and he was very involved in tournaments and competitions. He traveled a lot for those tournaments, and even placed in the top 8 in a national event just a few months before his diagnosis. Every year, BC Comics (now Perfect Storm Comics and Games) hosts a card tournament in his honor with proceeds going to help fight cancer.
When Michael wasn't playing football, bowling or card games, you could find him playing video games with his friends, or rooting for his favorite sports teams. Michael was a passionate Michigan State University football fan and said he was going to play football at MSU one day. He even got the chance to meet Mark Dantonio and some of the Spartan football players, as they hosted Michael and our family for a day.
It's those memories that we, his family and friends, carry with us each day. His smile. His jokes. His dedication, bravery and will to fight. And we will continue that fight against DIPG and other cancers by partnering with and supporting amazing people like Koschmann's Lab. We NEED to make a difference. Michael would want it no other way.